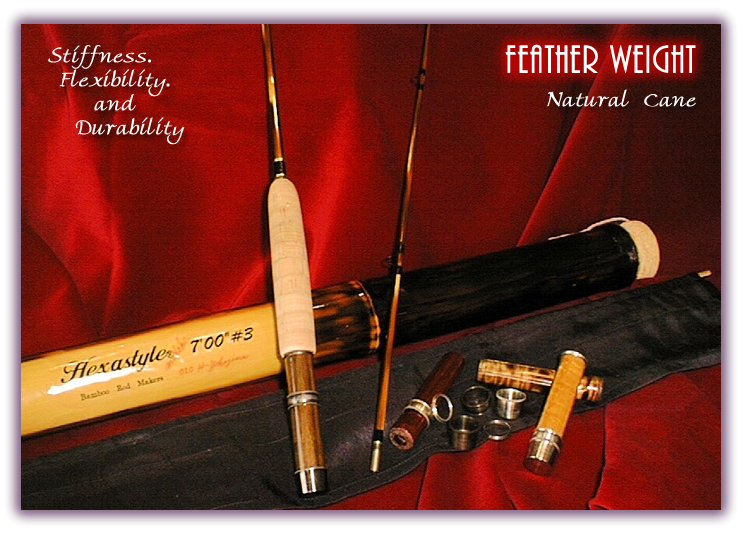 The Feather Weight Series since 1993. Export to the U.S. and Europe.
This rod is made of top quality Japanese native bamboo, called "Madake"( Phyllostachys bambusoides ). This light and flexible material contributes greatly to perfect parabolic action for dryfly fishing. When you cast it you would feel only half of its real weight. Madake has fine skin, it's so beautiful. And this rod is constructed by new gluing method. It is new technorogy-Second Generation Epoxy. S.G.E is the new concept of bamboo gluing. It brings flexibility and durability. But unfortunately this rod is not almighty,as any rod is not. Its bamboo fiber is really fine and not suitable for a heavy fly line. We built it for small stream and Brooktrout. This is for East coast USA and European mountain stream.
The Feather Weight Series - 2013 Products
Made of Madake (Japanese bamboo) - Fusion Progressive Taper with Second Generation Epoxy
New Parabolic Action with Ultra Light Weight Bamboo Rods

 Model  F.W 703 (Arcadia)

* 7 ' 00" # 3    2piece

 Natural (Shiba Orange
       or Chocolate Brown)
 Model  F.W 704 (Paradise)
* 7 ' 00" # 4    2piece
 Natural (Shiba Orange
       or Chocolate Brown)
Natural or Chocolate brown shaft with High carbon snake guide and Agate stripping guide(Option).
Gun blued nickel silver ferrule, ring and engraved cap.
These rods are made of Non Flame Method.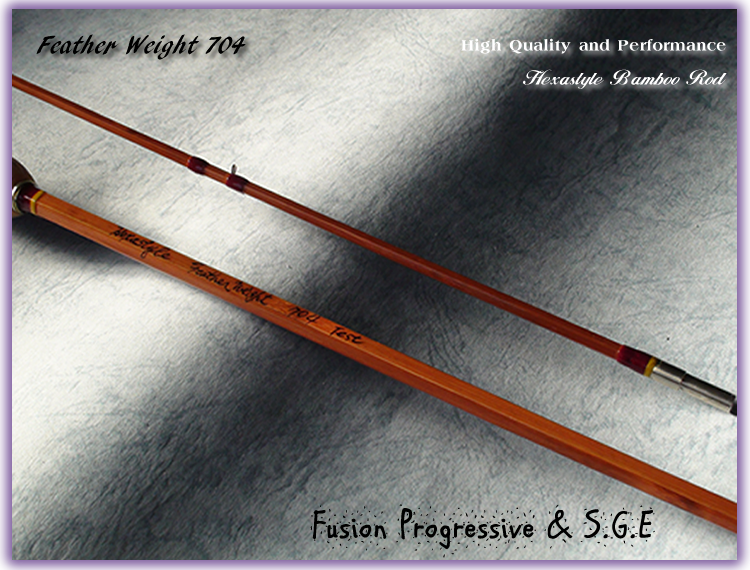 ---
[ Home ] [ Perfect Presentation Series ] [ Feather Weight Series ] [Premium Bamboo Rod Case]
[ Prices & Repairs ] [ Ordering ] [ Builder's Monologue ]